Weddings are expensive, so expensive it doesn't even make sense. But there's people that are willing to make that sacrifice to have an unforgettable night and we respect that. And having in mind that a wedding can cost a fortune, we are only going to judge these wedding cakes by the concept. We know that you don't have much money and that you did your best, But is that camouflaged cake really the best you can do? This is a list of the fifty worst wedding cakes ever imagined, cakes that someone (more than one person, actually) thought that were cute and perfect for a lovely evening.
UNTIL DEATH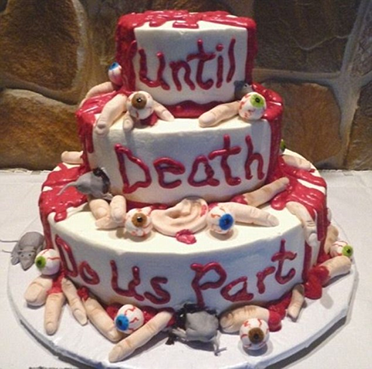 This one is amazing, and it's only the first. If you are not an Addams family member, I don't know why on earth would you want this cake at your wedding.
THE LEANING CAKE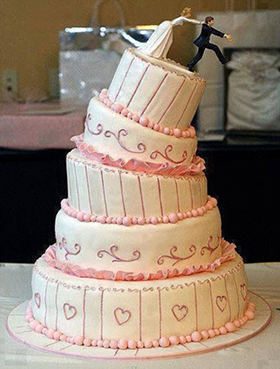 This is a great augury, without a doubt. There's nothing better than having a leaning cake (that is kinda hideous by itself) with those two guys on top. Good life, folks!
Think twice before ordering your wedding cake, you don't want to be in the second part of this list! Share this with your family, friends and fans, they will appreciate it!